Introduction of 25G SFP28 Active Direct Copper Cable ACC
27-12-2019
C-FLINK recently introduced a new 25G SFP28 active coaxial copper cable (ACC) module, which is designed to provide a more cost-effective solution for short-distance connections in high-speed data center interconnect applications.
These components have stable operability, fully meet industry standards, and can provide customers with industry-leading cable solutions. 25G SFP28 active copper cables are widely used in data center switch-to-server connection applications.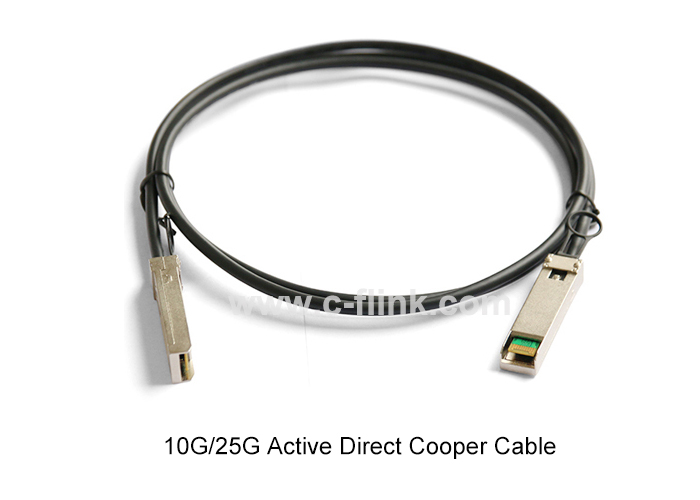 Features:
• Supports data rates up to 25Gbps
• Data rate backward compatible with 10Gbps
• Hot-plug SFP 20-pin package
• I/O connectors designed for high-speed differential signaling applications
• Improved pluggable format factor (IPF) compatibility for enhanced EMI/EMC performance
• Temperature range: 0 ° C~70 ° C
• RoHS 2.0 compliant
Applications:
• High-capacity I/O in storage area networks, network-attached storage, and storage servers
• Switched fabric I/O, such as ultra-high-bandwidth switches and routers
• Data center cabling infrastructure
• High-density connection between network devices
C-FLINK's 25G SFP28 active copper cable assembly combines the advantages of a dual-axis shielded cable structure and a strong die-cast housing to better support high-frequency data transmission rates up to 25Gbps per channel. This series of active cables use signal processing technology in the connector back shell, which can extend the cable connection length to 10m, which is suitable for high-performance computing environments where the connection length requirements exceed the range supported by passive copper cable solutions.
It also has good compatibility and can be compatible with more than 90% of major brand network equipment. The compatible Cisco and standard SFP28 active cable assemblies are available in both 10m and 15m lengths, while the compatible Cisco and standard SFP28 passive cable assemblies can only be up to 7m in length.