Introduction of 100G QSFP28 AOC cable
30-07-2019
In the optical communication market, users urgently need a new product with high density and bandwidth as the main transmission medium of high performance computing and data center. In this case, active optical cable (AOC) products emerge as the times require. AOC active optical cable has a variety of packages and rates. Here we introduce 100G QSFP28 AOC active optical cable.
Structure of 100G AOC active optical cable
Briefly understood, the active optical cable consists of two optical transceivers and one cable jumper, and the fiber transceivers at both ends and the OM3 or OM4 multimode fiber of different lengths.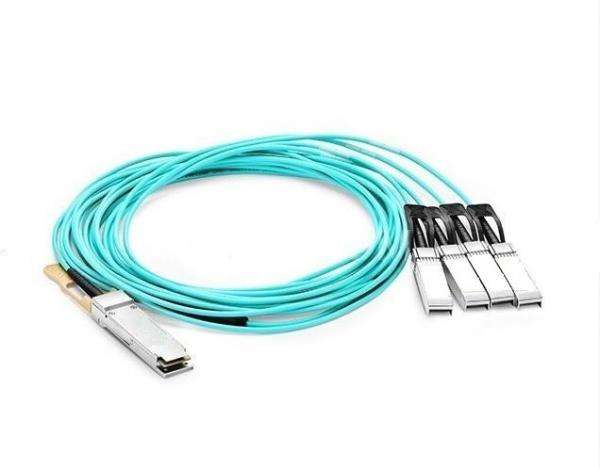 What are the types of 100G QSFP28 AOC active optical cables?
There are two main types of 100G QSFP28 AOC:
1) 100G QSFP28 active optical cable AOC: one optical module receiver at each end; realize one-to-one transmission;
2) 100G QSFP28 to 4X 25G SFP28, the front end is a 100G QSFP28 interface; the back end is four 25G SFP28 interfaces, which can provide customers with 100G data transmission.
100G QSFP28 AOC active cable is used for short-range multi-channel data communication and interconnect applications. It integrates four data channels in each direction with a bandwidth of 100Gbps. Each channel can be run to 70m at 28.05Gbps using OM3 fiber or 100m using OM4 fiber.
QSFP28 to 4xSFP28 breakthrough fiber optic cable provides IT professionals with cost-effective consolidation of 100G QSFP28 and 25G SFP28 interconnect solutions with host adapters, switches and servers enabled
However, a single 100G QSFP28 optical module cannot realize data transmission because the 100G QSFP28 optical module and the jumper are combined to form a 100G QSFP28 AOC or 100G QSFP28 DAC for data transmission. So, how should the 100G QSFP28 AOC/DAC formed by 100G QSFP28 optical module and jumper be selected in the data connection scheme? Can look at the following points: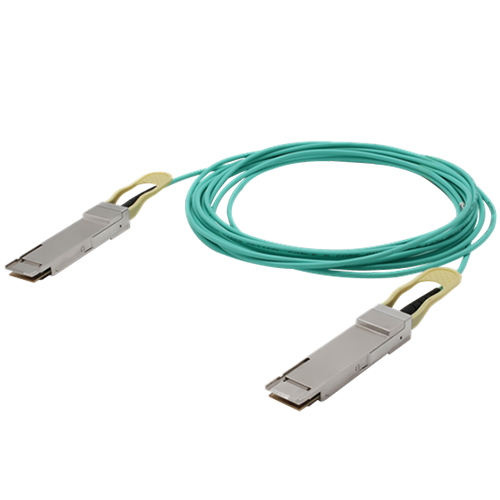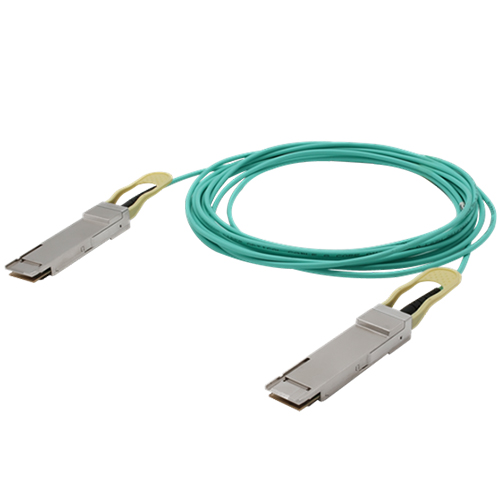 1. Long-distance single-mode fiber: ≤10km
For ultra-long 100GbE networks, such as connections between two buildings, up to 10 kilometers apart, the QSFP28-100G-LR4 optical module with LC interface is the best choice defined by the IEEE and is typically used with single mode fiber. But now, the price of the QSFP28LR4 optical module is still very high.
2. Single-mode optical fiber wiring between switches: > 100m-2km

A distance of more than 100 meters but less than 2 kilometers is usually called a medium distance. For most large data center operators, it is their best choice to be able to meet the medium and long distance 100 GbE solution at low cost. PSM4QSFP28 and CWDM4/CLR4QSFP28 optical modules are suitable for medium and long distance 100G applications.
3. Multimode Optical Fiber Wiring Between Switches: 5-100m
For 100GbE cabling using multimode fiber between switches, there are two options, one is to use the QSFP28AOC active cable that is best for 3-20 meters. Another option is to use the QSFP28SR4 optical module with a 12-pin MTPOM3/OM4 fiber patch cord.
4. Inside the rack wiring: 1-5 meters

QSFP28 passive DAC high-speed cables include QSFP28 to QSFP28DAC and QSFP28 to 4xSFP28DAC. Their ideal usage range is within 5m. QSFP28 DAC is an ideal solution for 100G short distance connection instead of 100G optical module. If your 100GbE network is deployed in a 5m rack, QSFP28 DAC passive high-speed cable is very suitable for you.
The choice of 100G network data connection solution should take into account the cost, actual demand and other aspects, so as to achieve a high cost-effective 100G network data connection solution.