Application of 200G DAC high speed cable in data center
19-11-2019
In the era of high-speed development of data center and interconnected data, DAC has greatly expanded its market by virtue of its excellent simplicity and price advantages. DAC seizes the market by cost, with the inherent advantages of enhancing signal integrity and excellent flexibility, and has become the first choice of high-speed links (such as 10G, 25G, 40G, 100G and 200G/400G). This cost-effective interconnection solution is applicable to all large-scale data center networks and enterprise network applications.
Introduction to high speed cable:
High speed cable (DAC) usually refers to cable components with fixed length and fixed interface at both ends. The interface of high-speed cable end is the same as that of optical module, but compared with optical module, the connector module on high-speed cable has no expensive optical laser and other electronic components, which can greatly save cost and power consumption in short-distance application. As a low-cost and high-efficiency high-speed data communication solution, DAC can replace optical module by Switches connect to routers or servers and are widely used in storage area networks, data centers, and high-performance computer connections.
Advantages of high speed cable DAC:
1. In the transmission distance, compared with the active optical cable AOC, the high-speed cable has a short transmission distance and is suitable for short-distance wiring in the data center.
2. In terms of material, the inside of the high-speed cable is made of copper core. The copper cable has the function of a natural radiator, and has good heat dissipation effect, energy saving and environmental protection.
3. In terms of power consumption, high-speed cable power consumption is low.
4. In terms of cost, the price of copper cables is much lower than that of active optical cables.
200G QSFP DD To 2x100G QSFP56 DAC High Speed Cable: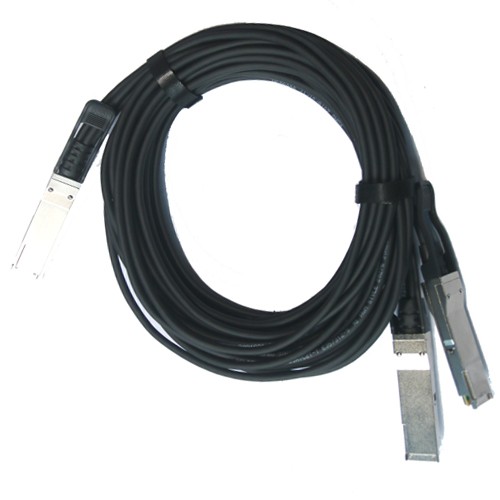 200GbE QSFP DD to 2x100GbE QSFP28 DAC for connecting fiber optic network devices with high speed long-range connectivity. This 1 meter cable has a 200GbE QSFP DD connector on one end and a 2x100GbE QSFP28 DAC connector on the other end.
200Gb/s QSFP28 to 4 x 50Gb/s SFP28 copper splitter cable for connecting 50Gb/s servers to TOR switches. In addition, the 200G QSFP-DD supports 8 x 25Gb/s and direct-connect (DAC) cable up to 2m.